In the first match of the Youth Development League on Sunday, we won eighteen events and finished third overall. Not a bad start, though another 16 points would have put us second, ahead of local rivals Hillingdon! It was a cold and windy day, which slowed times in the middle distances, but the wind direction helped to produce a number of PBs for the sprinters and jumpers.
D'yon Christopher was top points-scorer for the U20 men, notching up a hat-trick of PBs in the sprints: he won the 200m B, and finished third in both the 400m A and the 100m B.
In the U17 events, Will Lord was another to record PBs in all three of his races. He won the 400m A race, finished fifth in the 200m B race, and was fourth against older competitors in the U20 100m A. In the longer distances, Reece Farren won the 3000m A race, while Oliver Way won the 1500m B. In the field events, Joel Wynter (pictured left) won the long jump with a significant PB, while Karolis Narvilas won the hammer throw.
For the U20 women, Eldika Edwards and Tabita Botuli proved a strong combination in the sprints. Having won the 100m A, Eldika (pictured below) fought hard to the line with an outdoor PB in the 200m, but was judged runner-up despite being tied for time with the winner. Tabita won both the 100m B and the 200m B. Siobhan Drummond won the discus and Kamile Bykovaite won the triple jump. The sprint relay team rounded off the day with a win by almost two seconds.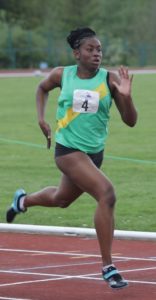 In the U17 women's events, Besirat Tesfu won the 100m B, while Angelique Avery matched her PB in the 200m A. Erica Wallace won the 800m. Yasmine Ferguson won the discus with a significant PB, throwing beyond 30m for the first time. She also won the shot put.
Well done all. The question is: can the U13/U15 squad do even better next weekend? 
Results summary 
Match scores: 1 Team Dorset 599; 2 Hillingdon 437; 3 ESM 422; 4 Winchester 339; 5 City of Portsmouth 286; 6 Chichester 211; Havant & Isle of Wight 193; 8 Dorking & Mole Valley 0
U20 Men
100m: A: 4 Will Lord 11.8; B: 3 D'yon Christopher 11.8; 200m: A: 4 Amarvir Ranu 24.6; B: 1 D'yon Christopher 23.7; 400m: A: 3D'yon Christopher 53.1; 800m: A: 4 Zephon Allen 2.13.2; B: 3 Raunak Mainali 2.25.5; 1500m: A: 4 Zephon Allen 4.34.1; 4x100m Relay: 2 ESM (Will Lord, Amarvir Ranu, D'yon Christopher , Joel Wynter) 47.1
U17 Men
100m: A: 5 Joel Wynter 12.2; B: 2 Saleh Soomro 13.3; 200m: A: 5 Will Lord 23.9; 400m: A: 1 Will Lord 53.2; 800m: A: 2 Charlie Sillett 2.08.4; B: 2 Reece Farren 2.19.0; 1500m: A: 3 Mukhtar Farah 4.36.9; B: 1 Oliver Way 4.44.2; 3000m: A: 1 Reece Farren 11.10.8; HT: 1 Karolis Narvilas 32.83; JT: A: 3 Karolis Narvilas 16.88; LJ: 1 Joel Wynter 5.83; TJ: 2 Joel Wynter 11.13
U20 Women
100m: A: 1 Eldika Edwards 12.6; B: 1 Tabita Botuli 13.1; 200m: A: 2 Eldika Edwards 25.7; B: 1 Tabita Botuli 26.5; DT: A: 1 Siobhan Drummond 29.81; JT: A:3 Erica Wallace 16.02; B: 2 Siobhan Drummond 13.72; LJ: A: 2 Kamile Bykovaite 4.03; TJ: 1 Kamile Bykovaite 10.57; 4x100m Relay: 1 ESM (Tabita Botuli, Angelique Avery, Kamile Bykovaite, Eldika Edwards) 51.2
U17 Women
100m: A: 4 Angelique Avery 13.5; B: 1 Besirat Tesfu 14.2; 200m: A: 3 Angelique Avery 27.5; 800m: A: 1 Erica Wallace 2.28.8; B: 1 Courtney Marshall 2.34.1; 3000m: 1 Courtney Marshall 11.45.6; DT: 1 Yasmine Ferguson 30.10; JT: A: 3 Yasmine Ferguson 15.95; SP: 1 Yasmine Ferguson 11.73; LJ: 3 Besirat Tesfu 4.16
Full results here.