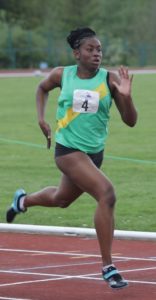 We came third out of six competing clubs in last Sunday's U17/U20 YDL match at Perivale – a pleasing outcome in a match which produced few wins or PBs for us.
The women led the way again, with Eldika Edwards (pictured) grabbing victory both in the U20 100m (12.6) and the 200m (26.2). Siobhan Drummond had her throwing arm working well, as she won the U20 discus with a PB of 35.15m and produced another PB of 28.41m in the javelin to finish second. In the javelin B string, Erica Wallace threw a PB of 18.49m. Kamile Bykovaite won the U20 triple jump, backed up by a B string win from Lara Kotecha with a PB of 8.95m.
Three of the club's U17 women won their events: Erica Wallace ran 2:24.2 in the 800m, while Georgia Dee took maximum points in the B race. Yasmine Ferguson threw a winning shot putt of 11.37m and backed that up with a PB of 26.67m in the hammer.
In the U17 800m, Mukhtar Farah notched up the only victory for the men, but Joel Wynter had the consolation of achieving a PB of 12.5 in the U17 100m. Once again, D'Yon Christopher proved a valuable points scorer for the team, coming second in the U20 100m, 200m and 400m races.
Results summary
MU20
100m A: 2 D'yon Christopher 11.8; B: 4 Amavir Ranu 12.4; NS: Jason Horby 12.2; 200m A: 2 D'yon Christopher  23.4; B: 3 Jason Horby 25.0; 400m A: 2 D'yon Christopher 53.0; 800m A: 4 Raunak Maunali   2.20.5; DT A: 5 James Foley 17.08; B: 2 Saleh Soomro  15.43; SP: 5 Saleh Soomro 6.14; 4x100m: 2 46.4 (D'yon Christopher , Jason Hornbi, Amavir Ranu, Joel Wynter).
MU17
100m A: 6 Joel Wynter 12.5; B: 3 Will Lord 12.0; NS: Mark Taylor 12.0; Tom Newton 12.2; 200m A: 5 Joel Wynter 25.1; 400m A: 3 Rowan Board 54.4; 800m A: 1 Mukhtar Farah 2.06.5; 1500m 4 Eliot Stewart  4.45.0; 100mH: 4 Tom Newton 17.5; DT: 3 James Foley 19.13; JT: 2 Jack Kirk 22.60; LJ: 2 Joel Wynter 5.89; TJ: 2 Joel Wynter 10.88; HJ: 3 Eliot Stewart 1.35.
WU20
100m A: 1 Eldika Edwards 12.6; 200m: 1 Eldika Edwards 26.2; DT A: 1 Siobhan Drummond 35.15; HT A: 2 Siobhan Drummond 7.32; JT A: 2 Siobhan Drummond 28.41; B: 1 Erica Wallace (U17) 18.49; LJ: 2 Kamile Bykovaite (U17) 4.51; TJ A: 1 Kamile Bykovaite (U17) 10.93; B: 1 Lara Kotecha 8.95.
WU17
300m A: 3 Erica Wallace 46.2; 800m A: 1 Erica Wallace 2.24.2; B: 1 Georgia Dee 3.54.7; DT: 2 Yasmine Ferguson 28.34; HT: 2 Yasmine Ferguson 26.67; JT:4 Georgia Dee 19.92.