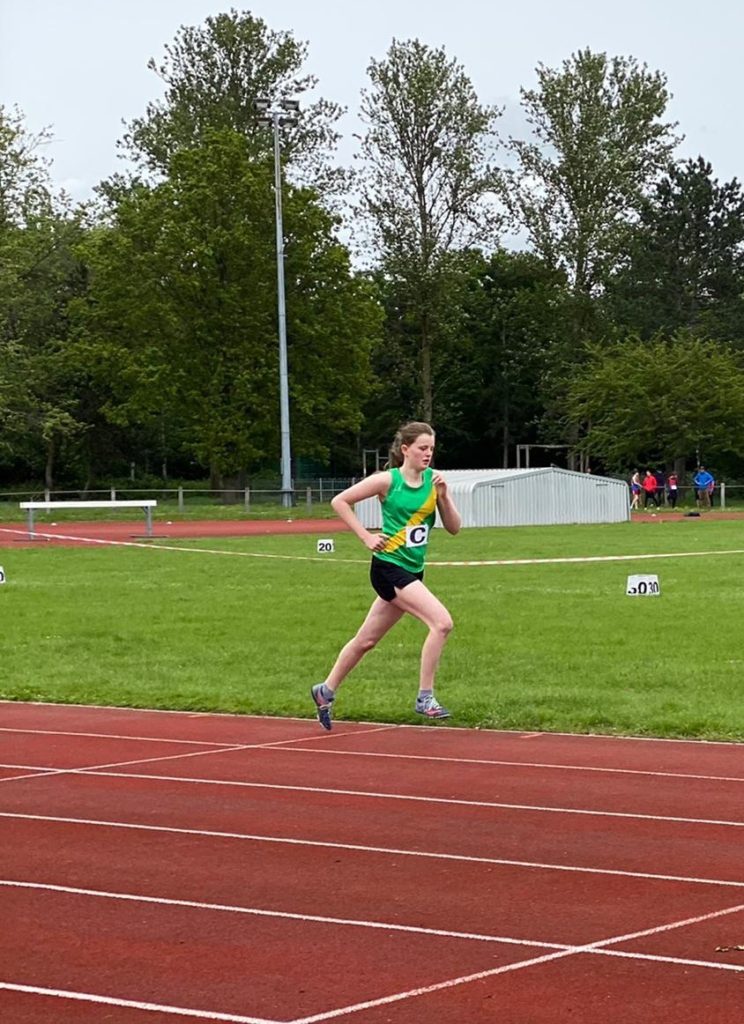 The First round of the Middlesex Young Athletes League took place over 2 days on the 22nd and 23rd May to enable social distancing. At the end of match 1 ESM are sitting in equal 3rd place.
On Saturday a committed few made their way to Finsbury Park for the field events.
U13 Elizabeth Boissiere showed impressive throwing by winning the Shot Put with a throw of 6.68m and later launched her Javelin 20.32m, finishing 2nd.
New ESM member, Leila Newth, also delivered 2 determined performances in the U13 age group with a winning High Jump of 1.25m and an excellent Long Jump of 3.99m earning her 2nd place.
U13 Alfie Kurylo was the only boy to make the trip to Finsbury Park, and after some strong jumping finished 3rd in the Long Jump with 4.01m.
All 5 of these performances were worthy of rankings on Power of 10!
We had 2 U15 girls competing in the jumps.
Flora Allan jumped very consistently in her 1st Long Jump competition with 2 jumps over 4m, her longest of 4.32m giving her a 3rd place finish in the A string competition.
Zairah Newth was also jumping for the 1st time and despite struggling with her run up, marked a jump of 3.74m and finished 3rd in the B string.
Fortunes were reversed in the High Jump with Zairah claiming 2nd place in the A string with a gutsy jump of 1.30m, and Flora finishing 3rd in the B string by clearing 1.15m.
U17 Katharine Boissiere completed the team. She cleared 1.40m in the High Jump to earn 2nd place and an 11cm PB!
Sunday delivered more inclement weather and our athletes were at times battling strong winds and rain as well as their opponents at Perivale Park.
Our track team consisted of 36 athletes and again, for many this was their first ever athletics competition.
Too many performances to list individually… for full results go to: https://www.myal.org.uk/assets/files/results/2021/MYAL%20Round%201%20Results.pdf
Well done especially to all of our U13's, some of whom have only been training for a few weeks:
70m hurdles: Isla Thompson & Malgorzata Marzac
200m: Phoenix Offiah, Alfie Kurylo, Joshua Dowman, Bilal Yusuf, Isla Thompson & Leila Newth
800m: Gabriel Carpentier, Mika Stripp, Elliot Edgar, Tom Price, Jack Hayward (U11) & Gabi Bryce (U11)
To our U15's:
75m hurdles: Tianna Thomas & Lucila Dussaillant
200m: Dwittee Chaudhri, Destiny Orafu & Kevin Prempeh
300m: Flora Allan, Zairah Newth, Adela Davison, Isaac Mezey & Kevin Prempeh
800m: Alec Edgar, Ed Flewitt, Henry Jones, Junias Lee, Rosie Hewitt, Reha Siyani, Isabela Dussaillant & Diya Siyani
and last but not least – to our U17's:
200m: Katharine Boissiere, Sonia Ouzhene, Zack Clarke-Green
300m: Katharine Boissiere & Sonia Ouzhene
400m: Gus Carter
800m: Catherine Gallagher
Round 2 will be held on the 5th and 6th June.